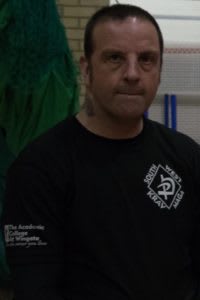 Kennie Gould
My name is Kennie Gould; I am the Founder and senior Krav Maga Instructor of South West Krav Maga. I would like to this opportunity to welcome you and hope you will be joining us soon.
I have had a long term interest in Martial Arts generally which I studied karate for a round 10 years, taught by Phil Woodfield 4th Dan Black Belt. And Krav Maga specifically because of my background and occupation. I served in the British army infantry and parachute regiment (1 Para), until 1997. I toured Northern Ireland several times also taken part in some major exercise throughout the world including Germany and the United States of America plus I've experienced the sharper end of sectarian violence. My time in the Army taught me that real world violence can be unpredictable, life changing and incredibly intense.
Despite numerous medical operations and extensive rehab I was medically discharged from the Army. This was tough. Going from Elite soldier to being medical discharged out was hard.
I later began work in the Close Protection and the Security Industry after completing a 150 Hour BTEC Level 3 Close Protection Course, BTEC Level 3 Conflict Management, and a Restraint and hold techniques level 2 Course in the UK. During the time I was operating as a Bodyguard I completed various other courses such as Road passenger vehicle driving (CHAUFFUER) NVQ level 2, Defensive driving ASCT level 2 and a PTTLS level 4 teaching qualification Preparation to Teach in the Learning Sector plus other courses. I also worked the doors as a bouncer/door supervisor (an education in its self), also provided security to a number of celebrities including TV, Sports Personalities and Music Celebrities. I've also worked in teams assigned to high profile individuals.
My real passion is teaching Krav Maga. I've also taken part in various seminars in the UK taught by Amit Porat a Former IDF Krav Maga Instructor in Israel plus Jeff Mount a 3rd Dan Black Belt Krav Maga Instructor for Krav Maga World Wide (KMWW) from the USA. In July 2016 I completed a 140 hour Intensive Krav Maga and Education course at Wingate Academic Institute in Israel taught by Gabi Shai Chief Executive officer at Israel Operational Krav Maga (IOKM) and Avi Abeceedon 10th Dan Grand Master of Krav Maga Israel Krav Maga Association in Israel. Which he is a former Krav Maga Student of the founder of Krav Maga Imi Litchenfield and Eli Avikzar the First Black Belt of Krav Maga in the World also the Founder of Israel Krav Maga Association (K.AM.I). Travelled to Belgium in March 2017 also November 2017, for 2 day Krav Maga Alliance Instructor update training and Seminars, Taught by John Whitman. John has also taught a 4 hour Krav Maga Seminar Open to the Public right here in Swindon in September 2017.
I'm a former G4 Krav Maga Instructor for the (BKMA) British Krav Maga Association from 2013-Febuary 2017.
The Only Wingate Academic Institute College of Israel Certified Krav Maga Instructor in Swindon.
Brown Belt Level 5 Krav Maga Alliance USA
We have the great pleasure to be an Affiliated Krav Maga Club here in the UK for Krav Maga Alliance USA (john Whitman) February January 2017
I emphasise tough, real world training. Every session is tough, but good fun and enjoyable. I don't tolerate egos and generally have a really nice group of people male and female above the age of 18 year old.
I understand some of you may be nervous, unfit or carry injuries of your own, that's OK. I'm happy to work around these issues but I will hold you accountable to do the best you can.
I believe one of the ways I can deliver the best Krav Maga training to my students is to keep updating my own skills and Knowledge, by attending regular instructor events Worldwide and (BJJ) Brazilin Jujitsu Gracie Barra Classes.
Request Information
Krav Maga