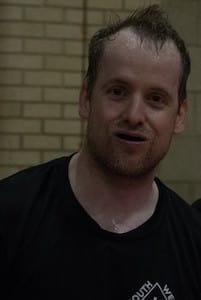 James Crowther
Hi, my name is James Crowther, I've been learning Krav Maga Taught By Kennie Gould now for two and a half years in Reading, a tough and unbelievably enjoyable experience.
I'd wanted to do Krav Maga for a few years. What I like about Krav Maga is that it deals with opponents quickly and is not about competitions though I'd always wanted to do a martial art. I knew I wasn't fit, well not aerobically, Krav Maga changed this within a few months and I was up to speed with the rest of the guys and girls in no time. I wanted to get fitter so decided it was time to push myself so I could be more capable to apply myself more in the sessions..
I've attended a weekend seminar conducted by Amit Porat, a former IDF instructor, covering everything from gun to knife attacks but, most recently a 4hr seminar by John Whitman 5th Dan Black Belt of Krav Maga Alliance. Both of these seminars gave me the step up and confidence I needed in my abilities to further my training.
Krav Maga has taught me many things from 'I can do it' to 'Keep going forward', through perseverance and the confidence in my ability. I look forward to training you.
Request Information
Krav Maga